Car Rental in Varanasi
Hire a Taxi in Varanasi for City Tour and Airport Transfer
Looking for a hassle-free Car Rental Service in Varanasi? Look no further than Vidhan Travels! Our local taxi service is the perfect solution to all your travel needs, whether you need a ride to the airport, a city tour, or a sightseeing adventure. We offer a wide range of vehicles, including luxury AC buses and economy cars, all at the most competitive rates.
With Vidhan Travels, you can be sure you're getting a reliable and trustworthy cab service provider in Varanasi. Our experienced drivers are professional and knowledgeable about the best routes in and around the city, making your journey comfortable and stress-free. Plus, we offer a range of services to meet all your needs, from airport transfers to temple tours, Buddhist circuit tours, and even wedding parties and corporate meetings.
As the best tour operator and travel agency in Varanasi, Vidhan Travels is the top choice for car and bus rental services. Whether you're looking for a luxury vehicle or an economy car with a driver, we've got you covered. We also offer tours and rental services to popular destinations like Vindhyachal, Bodhgaya, Allahabad, Mirzapur, Gaya, Lucknow, Naimisharanya (misrikh-cum-neemsar) Kanpur, Agra, Mathura, and Delhi. And if you're looking to explore Nepal, we offer tour packages and car rental services to Lumbini, Chitwan, Kathmandu, Manokamna, and Pokhara, all within your budget.
So why wait? Book your car or bus rental with Vidhan Travels today and experience the best in comfortable, convenient, and affordable travel!
Looking for Taxi Service in Varanasi? Find 10 Budget Cab options available in Varanasi
Varanasi City Tours and Local Sightseeing
An ancient place on earth at the bank of holy ganga. Experience spiritual sense with peace of mind and soule, Visit Kashi-Vishwanath Temple and full day sightseeing tours in Varanasi.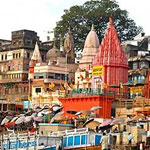 Ganga Ghats
Varanasi City (Banaras), The historical and cultural capital of India. More than 100's of ganga ghats are the witness of its ancientness. Must see the Evening Ganga aarti ceremony at Dashashwamedh Ghat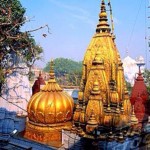 Temples
Varanasi a city of ancient temples. There is a temple at every turn of road. You can hear the sound of temple bell from early morning. Kashi Vishwanath Temple is one of the most famous Hindu temples and is devoted to Lord Shiva

Education
Varanasi also known as, Benares, Banaras or Kashi(ancient name) believed as Capital of education(Vidya ki rajdhani) revered as a great center of learning. Banaras Hindu University is one of the famous campus.

Fun
A morning Boat ride from assi ghat to Manikarnika ghat is one of the must do things in Varanasi, that introduce the rituals in the city. The east-facing direction of Varanasi originate an incredible morning light.